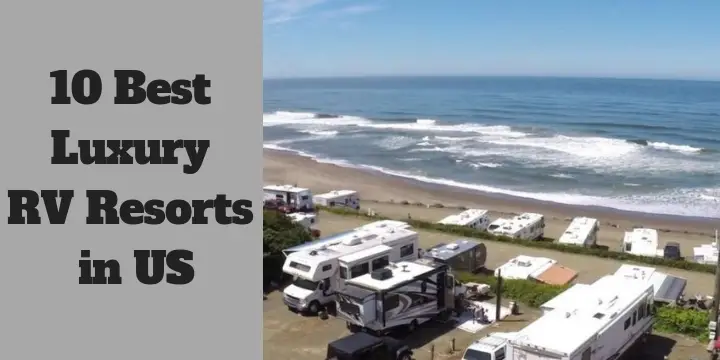 Are you looking for the most comfortable and luxurious RV resorts in the US? Well, the following are some of the best RV resorts that will make you happy and entertained more than you can imagine.
LUXURY RV RESORTS IN CALIFORNIA
1. Cava Robles RV Resort
The cava Roble RV resort is located on the wine region on Dola, Robles. It is known to offer relaxation. This resort ensures that everyone is entertained starting from kids to adults. For instance, adults can enjoy wine tasting while kids can enjoy eating delicious meals at the Farmhouse Bistro. There are a lot of recreations near this resort. The Eagles landing golf coast and ravine water park are good examples
2. Paradise by the Sea Beach RV Resort
What comes into your mind when you hear the word paradise? It is simply a beautiful, peaceful and luxurious place. Being located near the Oceanside's, there are a lot of activities to make you stress-free. This includes beach cafe, playgrounds, picnic areas, and basketball courts among others. The paradise resort provides you with a wide range of amenities like free Wi-Fi, pool, hot tub and pool table among others. You won't regret spending your money here.
3. Yanka RV Resort
If staying a breeze is your style, this is the best resort for you. There are a variety of things to keep you busy which includes a swimming pool, fitness center, outdoor fireplace etc. Also, you can enjoy using free wifi and cable TV. There are also a lot of recreations near this resort which includes, California mission tour, pinnacle national park, and golf courses. This is the only resort that has the largest pull through sites which can allow you to keep tow vehicles hooked up.
4. Motorcoach country club
It is a luxurious resort which can accommodate up to 45 class A motorhomes. This resort offers high security which ensures that each RV is inspected before it enters the resort. Being located near Coachella Valley, the resort is surrounded by some recreations like museums, shopping centers, casinos, dining, and the living desert. Yoga classes, tennis classes, cooking classes, and golf tournaments are among the luxurious activities offered here. In addition to that, there is a lot of amenities like swimming pools, fine dining, and full hookups.
> You may also like: 12 Best Waterfront RV Campgrounds: You Need to See. <<
LUXURIOUS RV RESORTS IN FLORIDA
5. Bluewater Key RV Resort
This is one of the most beautiful and luxurious resorts in Florida. It has a perfect environment that is surrounded by tropical plants and some beautiful shading plants. The amazing thing about this resort is that it has large sites and full hookups. The amenities in this resort include pools, dog park, propane exchange, and laundry facilities.
6. Terra Ceia RV Resort
The Terra RV resort is located on the west coast of Florida. It offers a variety of amenities and comforts. This includes a dog park, fitness center, hiking trails, horse showers, restrooms, swimming pool, RV storage, and many others. Full hookups and pull through sites are also available.
7. Coastline RV Resort
It is located on the East point of Florida. It is situated in a good location that is easily accessible. This makes it easy to access local attractions. While in this resort you can have a clear viewing of St George Island, dog island and st George sounds. You can also have a clear viewing of the beautiful st Franklin sunset and sunrise. The amazing amenities include a game room, full kitchen, fitness center, pool, fishing, and community fire.
> You may also like:45 RV Accessory Must-Haves for Your Travel Trailer<<
LUXURIOUS RV RESORTS IN GULF COAST
8. Buena Vista RV Resort
This is an amazing RV resort that offers a lot of privacy. If you love privacy, this is the best place to be. It has a beautiful landscape that is attractive to the eye. It can accommodate many RVs. Fenced dog park, 600 acre-foot club, hot tub, and fitness room are among the amenities offered in this resort.
9. Gulf Coast RV Resort
This resort has an excellent appearance. It is affordable and has many things to keep you excited. This includes laundry, playground, swimming pool, fitness room etc. In addition to that, there is free wifi and free breakfast. There are a lot of recreations near this resort, medical services, classic restaurants, gulf coast fishing, and casinos are good examples.
10. Sugar Sands RV Resort
This resort is in a good location that is surrounded by shops, restaurants and art galleries. It has many sites that offer full hookups. Apart from that, you can enjoy free Wi-Fi, free parking, kayaking, kayak lunch and both indoors and outdoor movies. The nearby recreations include family entertainments, beach express, and Foley sports complex among others.