Best dog ramp for RV
You love taking your dog everywhere with you. So, the car should not be any different. If you are looking for a more convenient way for your dog to climb aboard and go for a drive. Then, a dog ramp is your best bet.

When dogs climb onto a car, they naturally use their nails to grip on to the ground or material underneath them. This can be damaging to your beautiful car interior. An RV space enough for your dog to feel comfortable in while you commute. If, you are looking for a dog ramp for your RV. You are in the right place.
Here is the list of 3 best dog ramps for RV:
To start with, the;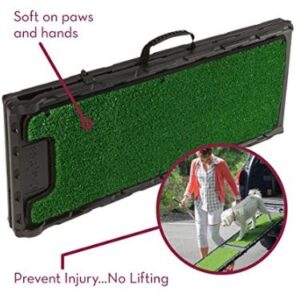 This ramp has a gradual incline and is best suited for those dogs that have had ACL surgery or injuries even for the ones that are elderly. It is sturdy and can hold bigger dogs comfortably. It's easy for your dog to use it because it caters to the dog's natural tendency to grip on to something with their nails while climbing into the car. The poly – grass feels soft to the touch and will make your dog feel more secure and cared for while climbing into the car. This ramp is light and easy. Folds and latches so there is no surprise unfolding while you are driving. It also has a handle which makes carrying it easy too. The cost is under 100 dollars.
Let's look at the features of this dog ramp
Can hold up to 250 lbs
72" long x 16" wide x 1.5 thick, stretched
As light as 17lbs
36″ long x 16″ wide x 3″ thick, folded
Poly grass in the centre
Handle for carrying it.
Has a lock feature.
Next, we have the;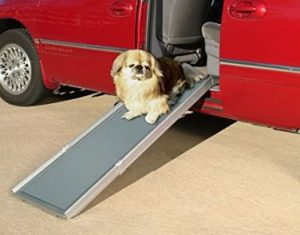 This ramp is great for small to large dog. It can hold up to 400lbs. The ramp has some traction to help prevent your dog from slipping or sliding. It is great for weaker or elderly dogs.
You can adjust the length of the ramp making it great for using in cramped areas too.
Some features
Has side rails to guide your dog.
It's adjustable, extends from 39" to 72 ", The dimensions of the ram are 39" – 72 "x 17" x 4 "
Weighs 13 lbs
Has a textured surface
Can hold up to 400lbs
It cost a little less than 100 dollars
Lastly,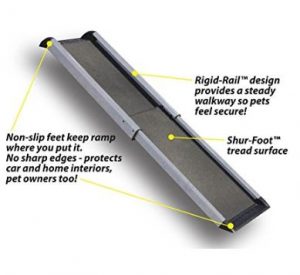 This ramp is like the Gen7Pets Natural Step Ramp for Pets
It is lightweight and has a traction bed as well as the guide rails on each side to help your dog as it climbs up the ramp.
Here are some features,
It is adjustable, it goes from 41" to 70 "
Has non-slip feet at both ends.
Holds up to 300lbs
Has traction bed and side rails
It weighs 13lbs
It will cost you a bit more than 100 dollars.
Finally, what are the differences?
The greatest difference is the weight they can hold. As you read the Gen7Pets Natural Step Ramp can hold the most weight.
However, the Gen7Pets Natural Step Ramp does is not adjustable.
Moreover, the Gen7Pets Natural Step Ramp is the only one with a Poly-grass bed. The Smart ramp is the most expensive of the three.
Lastly, the smart ramp is the lightest one of them all.
In conclusion, whichever one you chose will be a great helping hand to your furry family member.
Video Overview: HOW TO SAFELY CONTAIN MULTIPLE DOGS WHILE RV CAMPING | Exercise Pens
Related Post: 45 RV Accessory Must-Haves for Your Travel Trailer
Video Overview: Top 5 MUST HAVE Items to RV with a Dog (2018) || RV 101 || Full Time RV Living
Video Overview: I made a dog ramp. Srs