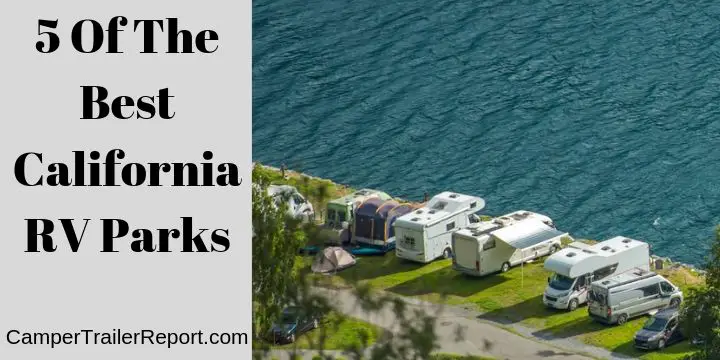 5 Of The Best California RV Parks
When it comes to RV campgrounds California is home to some of the nations best; Some of their RV campgrounds offer WIFI, some have restaurants on-site, some have swimming pools, and others are equipped with laundromats. Today we are going to go over 5 of the best California RV parks.
Morro Dunes RV Park
For RV campgrounds California's Morro Dunes RV Park is one of the best. This park is well known as a great place for RV owners with dogs.
It has a beautiful dog park on location, along with a shop that specializes in making dog cakes and cookies. It has an amazing view of marine life, such as dolphins and otters.
Now because of the widespread popularity of Morro Dunes, for visiting RV owners looking to lock down an RV spot, it is best to make reservations 4 – 6 weeks in advance.
> You may also like: 25 Best National Parks in the USA  <<
Jalama Beach Park
Located in Santa Barbara County, California, Jalama Beach Park, is one of the state's best locations for those RV owners who are seeking a little peace and quiet while catching some mesmerizing stargazing nights.
This RV park, located near the famous Jalama Beach Burgers restaurant and beautiful ocean, with its high waves, is a perfect location for surfers and windsurfers alike.
This gorgeous RV park offers electric hook-up and wifi, which allows those, who need to charge their phones, and laptops, the access, with the ability to graze the net for a quick peek.
Jalama Beach Park also has restrooms and showers for those looking to freshen up, outside of their RV, but the park does not offer any sewage or water services for RVs.
To guarantee a great RV spot, it is best to make reservations 2 – 4 weeks ahead of your visit.
Ocean Mesa RV Campgrounds
Located at El Captain, Ocean Mesa RV Campgrounds is a large RV site, with a wide range of amenities to satisfy visiting travelers.
For those who would like to sleep outside of their RVs, it offers locations for tents, as well as available cabins for rent.
It has an on-site swimming pool, hot tubs, and laundry rooms. If you're are someone who tends to get cramped up easily, then there is an available massage room to ease the tension.
There is a small playground for kids to play in. When clothes get dirty from enjoying the stay, there is a nice laundry room to get everyone's attire cleaned.
This is a very large RV site, that tends to provide peace and quiet to its visitors. And if you have forgotten to grab something before hitting the road, there is an available convenience store on-site, with a wide array of useful products.
Ocean Mesa has electric outlets and internet access, so you can charge your phones, watch tv, or just check your emails.
> You may also like: Least-Visited National Parks: Why They're Worth a Look<<
Yosemite National Park
One of the nations most popular national parks, Yosemite is a beauty. It some amazing waterfalls, gorgeous animals, and some very nice plant life.
This is a great RV location, but offer hotels, for those who wish to sleep outside of their RVs, and has internet access outside of their mountain trails.
It has on-site swimming pools, and streams available for those who bring their small rowboats. Yosemite is open year-round but its busiest season is Summer.
Pismo Coast Village RV Resort
Pismo Beach RV campgrounds California's premier RV resort has it all. This is the state's must-visit for RV owners. It has on-site convenience stores.
It offers electric hook-ups and internet access. For kids (and adults alike) it has on location arcades, miniature golf, table tennis and more (it even has a playground for smaller children). It has a beautiful swimming pool, for the whole family to enjoy.
For those basketball lovers, it has an amazing on-site, full basketball court. And Prismo Coast is a surfers dream.
It has gorgeous beaches, that have big beautiful ocean waves. This fascinating RV park is open and busy, year-round. Many RV owners who visit Prismo Coast Village RV Resort, consider it a paradise getaway.
> You may also like:  15 Most Underrated National Parks in America <