12 Volt RV Television Buyers Guide:
RVs or recreational vehicles are often categorized as vehicles with a temporary living arrangement, with basic amenities like a kitchen, a bathroom, and a sleeping facility. However, with the advancement of technology.

RVs have become more and more tech-savvy and accommodating a host of different amenities like television, air conditioners, and even satellite receptors. The question which we seek to address is whether an RV requires a specifically designed television or does a standard television set which we keep in our homes, work for RV as well.
Before we answer that question, it is important to establish the importance of television in the RV. The first and the foremost reason to buy a TV for such a vehicle is that it is a prominent source of entertainment in the modern times and as the purpose and utility of the RVs keep evolving, a long comfortable journey requires its share of information and entertainment which a TV very well provides.
Video Overview: The best tv mount EVER and how I set up my TV to run on 12 Volts without an inverter
The second reason why a TV is required in an RV is that all modern-day motorhomes come with a 12V RV TV installed in their vicinity, so buyers tend to get stuck with them whatsoever. However, before jumping to the conclusion that specifically designed TVs are required for an RV, it is important that certain differences between the two are established.
First, 12V RV TVs are specially designed to sustain through harsh conditions such as extreme exposure to sunlight, high-intensity UV rays, varying temperatures and extreme level of humidity as well. This sustainability factor makes the 12V RV TVs a preference over the regular televisions, but this is not all. Another reason that it is convenient to buy a 12V RV TV is that of its size and mounting procedure.
Video Overview: Why purchase a 12 Volt television for the caravan?
> You may also like  RV Electrical: Everything You Need To Know! <<
The amount of such televisions is specially designed to stay stable against any rough terrains and bad potholes on the road. If instead of this, someone decides to just plug in their home TVs on an RV, it is a high probability that it might not come back in one piece after camping.
One of the many convenient features of such RV TVs is an anti-glare screen that they come equipped with which makes their viewing during days of high sunshine a bit easier. In addition to all of this, 12V RV TVs tend to consume much less power than the regular home televisions amongst the condensation issues persistent in the case of the RV vehicles is the one for the condensation issues that seem to prop up all the time.
Video Overview: Top 5 Questions on 12 Volt TV's and RV televisions
The problem with the water vapours present inside the RV is that the moisture, being bad for the electronic appliances installed within the RV tend to cost a whole lot more for its owners, Amongst the other weathering issues associated with the TV performance in the RVs is the fact that the sub-zero temperatures tend to distort the quality of the appliances.
Lastly, the decision pertaining to choose off an optimal TV set is made considering the usage of the owner. If the RV is to be at the camping grounds too often, i is advisable that a 120V set is installed, whereas, in the case of minimal usage, a 12V set would do.
Best 12 Volt TVs
Sceptre-E165WD-SS 16'' L.E.D HDTV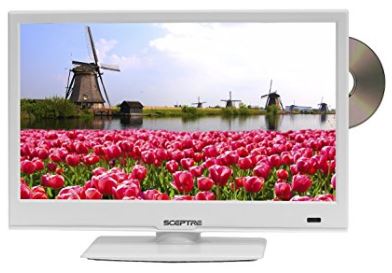 This product from Sceptre is apt as a small TV for RVs. The color coordinates along with the interiors of RV and the picture quality is remarkable due to the high pixel density. The installation process is sleek and easy with measures by the company in place for smooth installation. The sound quality is not brilliant right away but true to the specifications. A separate set of speakers along with this TV works well for any sound inefficiency. This 12 Volt TV is a good budget buy and can fulfill any specific requirements for its size.
Video Overview: TV on tour – expert advice from Practical Motorhome's Diamond Dave
Jensen Heavy-Duty JTV3217DC L.E.D 32'' HDTV 
View on Amazon
This TV is great to replace the outdated version of TVs in the RV. It has been shown to provide robust performance constantly to the buyer's delight. The picture quality is clear and crisp, more so on HD channels. It packs a punch way above for a TV running on mere 12 V! Sound quality is a hindrance though and external speakers are necessary to tackle it.
Best TV for RVs
Supersonic-SC-2211-WH-1080p L.E.D HDTV 22-Inch
 View on Amazon
This product from Supersonic works really well and is perfect to upgrade the old TVs. The performance is prominent in this product along with the color quality. The delivery time and installation process are not even a slight worry. The functions work efficiently and quick on this product. It provides satisfaction and performance to the buyer way more than its billing.
Naxa-NTD2256 22'' L.E.D TV/DVD/Media-Player/Car Package
The TV works really well and delivers high picture quality. The 12 Volt input is absolutely efficient. The product can be installed for use in RVs. The installation procedure is a child's play and once set, the signal reception is awesome. The DVD player is a valuable addition to this combo set. Sound quality is the only are of worry due to strange tinning at high volume. External speakers solve this sound quality problem. Overall, the product is really worth its price.
Best 12-Volt TV/DVD Combo
AXESS-TVD1801-19 19-Inch L.E.D HDTV
This TV is a great extravaganza. The product comes with proper packaging and the installation process is very easy for use in RVs. The performance is top-notch as claimed. Picture quality is mesmerizing and the colors are vibrant and real. The DVD combo works smoothly and has a real-quick loading. The sound quality though is not up to the mark but sufficient for daily activities and use.
Supersonic 1080p Led HDTV 22-Inch
This product performs effectively over a long course of time and is a valuable purchase for use in RVs. The picture quality is high especially the HD videos, which are crisp and clear. The in-built DVD player zooms up on loading quickly and performs really well. The sound is audible enough and clear in tone. This TV/DVD combo is a steal considering its efficiency in working really well according to it's below $200 price.
Related Post: 45 RV Accessory Must-Haves for Your Travel Trailer