12 Volt Portable Refrigerator: How to Choose the Best One.
Who does not like camping, hiking in beautiful places, or excursions that relax us and bring rest to our soul and mind? You may, however, have a large family that requires fresh foods that you must wear in some way.
You do not want safe melted ice cream, hot pizza, or frozen meat everywhere in your car? And surely none of you wants to stay hungry. Your new best friend will make your company beautiful breaks when you need a cold drink and a well-preserved food.
That's why you need a 12-volt portable refrigerator. But beware, a real portable refrigerator is one with a compressor built inside. Some of them have a DC plug. If you want to connect the A / C you will need to buy a separate A / C cord.
The year 2018 brings us innovations that are absolutely necessary for us all. If you want an excellent 12-volt portable refrigerator, here is the list of the best 12-volt portable refrigerator: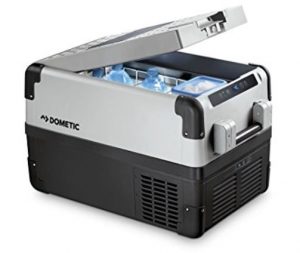 Key Features:
Capacity- 2.2 cu ft

12 Ounce cans capacity-106

User-friendly digital temperature display and suitable for solar operation includes a removable wire basket with divider

Excellent cooling performance even at extremely high outside temperatures

Store fresh food and drinks effortlessly with removable wire basket with divider
Do you want the best dual zone 12 V Fridge? Then we are going to prefer: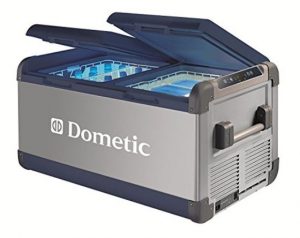 Key Features:
PLENTY OF ROOM – Holds 31 12-oz. cans.

KEEP IT COOL – Set temperature from -8 Degrees F to +50 Degrees F (-22 Degrees C to +10 Degrees C).

POWER OPTIONS – Runs on 120-volt AC, 12-volt DC or 24-volt DC power.

EASY TO USE – Soft touch digital controls and strong latches, hinges, and drop-down handles.

SIZED RIGHT – 26 liters/.9 cubic ft./27 quarts.
A best volt cooler portable refrigerator is: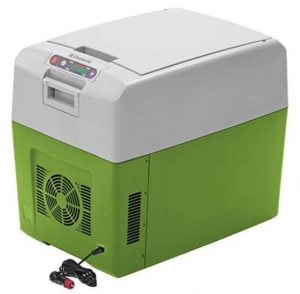 Key Features:
Seven-stage temperature regulation for cooling and heating

Power-Save circuitry switches on when the desired temperature is reached

Easy to read LED temperature display, wear-free fan

Detachable lid with magnetic lock

Sturdy, fold-away handle
In the first two, the cooling technology is a compressor, while the Dometic Tropicool is a thermoelectric cooling technology. The outside temperature can be reduced considerably. In the first two cases, we have a temperature decrease) 90 degrees F (32 degrees C), and in the latter case 77 degrees F (25 degrees C).
And why is the 12-volt portable refrigerator Dometic CFX the best choice for you?
– It's great because it's a compressor that serves as a real refrigerator.
– A 12-volt power is enough to meet all your needs.
– 3 – stage battery protection
– It does not create noise during its work, it is already a lot of silent
– Various capacities are available
– digital, easily adjustable temperature
Modern design in black and gray, it is a great addition wherever they are. Digital ignition and extinguishing mechanism, temperature, and practical setting The 12-volt portable refrigerator is a great choice for you.
Want frozen food, and do not want ice with it?
Dometic CFX offers you exactly that. According to the opinion and evaluation of many customers, this is an ideal product that serves its purpose. Inner dimensions are:
L = 22 "
W = 14 "
H = 19 "
Total hight 34 "
What is very important is protection from external influences, and above all from heat. Dometic Tropicool line is excellent because of its compactness and very little space occupies in our car. Additional flap dishes or pizzas are a great way to separate your drink and food and make sure you travel best in your life.
Do not waste time and money on the devices for which your journey will be destroyed. Buy a 12-volt portable refrigerator Dometic CFX and be sure that your pizza on hot days will be cold and your frozen food ready for preparation and enjoyment in it.
Video Overview: How to Power a 12 Volt Camping Fridge | Accelerate Auto Electrics & Air Conditioning
Portable 12 Volt Refrigerators: Buyers Guide
Who needs a portable 12-volt refrigerator?
Well at some point in their lives really just about everybody. If you're going camping for a while, or simply to the beach for a day you'll need one. If you're going tailgating outside a big game or concert on a hot day and that coolbox just won't cut it, you'll need one. Maybe you're just driving your frozen food home after buying in bulk, but you could sure do with one.
There are three primary different types of these on the market, so let's begin by having a look at:
Absorption Refrigerators.
Portable absorption refrigerators are affordable, generally useful, and can run on three different types of power, including gas. You would think that this makes them perfect candidates for the long getaway, but unfortunately, their performance tends to be very limited. They are generally unable to make anything more than 30 degrees cooler than the outside environment. So if you're trapped in 95-degree weather enjoy that 65-degree beer.
Portable Thermoelectric Coolers.
Despite their scientific-sounding name, these thermoelectric coolers are actually pretty useless all around. Although they are good for a quick run to the shop, in any temperature approaching 80 degrees they simply won't work. They are loud, power-hungry, and inefficient. However they can keep your food both lukewarm and slightly cool, so they at least work in two directions, if in neither very well.
Video Overview: Cooler vs. Chiller vs. Fridge – Which One is Better?
Portable Compressor Refrigerator.
These handy little tools don't come cheap, but the price is more than justified by the quality. They aren't some new technology that doesn't work quite as it should, but simply mini-versions of the fridge you have in your kitchen.
This means you have a huge amount of control over the temperature inside them and they can even be used as a freezer. And even if you are using it as a freezer, in 10100-degree weather, these compressor refrigerators will still work well and use surprisingly little energy. If you have the money, these are really the only true portable refrigerators on the market.
So, price. How much do these portable refrigeration options all cost? The price ranges obviously vary hugely depending on brand and style, but largely they cost as listed below.
Thermoelectric Coolers. As the worst option, they are also the cheapest, sold for between $100-$300.
Absorption Refrigerators. The second option, although generally largest, they have a wide range of prices from $350-1200.
Compressor Refrigerators. The best and final option they are also the most costly. Prices range from $600-$2000.