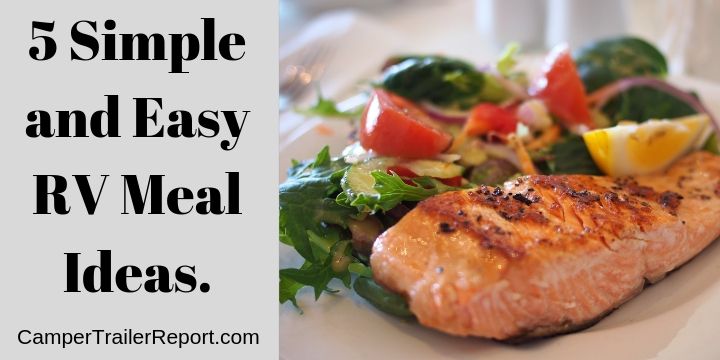 5 Simple and Easy RV Meal Ideas.
Cooking in an RV is different than at home which makes it quite tricky coming up with an exciting recipe or meal ideas. When most people hear about camping, the first food ideas that come to mind are the hotdogs or oatmeal because they are simple to prepare.
However, with an RV, there are a lot of means that you can prepare without overwhelming the limited space. Manufacturers are equipping some RVs with full-time kitchens enabling you to prepare any meal of your choice.
This article presents the best easy and fun recipes and RV meal ideas that any camper can handle.
1, Tasty Turkey Tacos.
Tacos are healthy, delicious and easy to make. It requires simple ingredients like tomatoes, cilantro, and onions which are easily stored in the fridge. It forms a great meal when combined with corn tortillas, rice or black beans. The recipe is quite simple:
Corn tortillas.
1 pound (0.45 kg) of ground turkey.
2-diced tomatoes.
Half sliced the purple onion.
Optional: Mexican spice mix, salsa, cheese or sour cream.
Preparation
First, fry the ground turkey with the mixed spice using a pan on a medium heat/flame. While this is cooking, chop the cilantro and dice the onions and tomatoes.
Wait until the turkey turns pink and drain the juice then lay the tortillas on top of the turkey, cover them for 2 minutes to warm the tortillas. Get rid of the tortillas, add the other ingredients—simple and delicious!
Video Overview: Easy Turkey Tacos Recipe
2. Beef Delight And Sweet Potatoes.
This is another meal that needs a few ingredients. It offers a balanced meal comprising protein and starch to keep you energized during the adventure.
Ingredients:
1 pound (0.45 kg) ground beef.
One well-sized sweet potato(thinly sliced).
A 1/2 diced onion.
A bunch of cilantro(one should be enough).
A 6-Oz tomato sauce can.
A tablespoon of table salt, chili powder, and paprika.
Preparation.
Roast the sliced sweet potato for 15 to 20 minutes at temperatures of 400 F until it forms crisps. Meanwhile, sauté the diced onions and wait till they turn translucent. Add the beef and adjust the flame to give a medium heat and fry until the pink color disappears. Drain excess juice then add tomatoes and any spice, mix and wait for about 10 minutes until all ingredients are cooked through. Place the meat on the sweet potato crisps and enjoy the meal.
3. Salsa Chicken.
This recipe is so easy to make and it's almost embarrassing! Anyone can prepare this meal because all you will need to do is place some few chicken tenderloins in a slow cooking cooker, add ingredients such as salsa over them or any spice that rhymes perfectly with chicken. Cook for two hours and dinner is ready. You can serve this meal with vegetables or rice. Remember to add diced onions, tomatoes, pepper and mushrooms.
Video Overview: Salsa Chicken Recipe – Laura Vitale – Laura in the Kitchen Episode 709
4. Breakfast Casserole.
Protein makes a great option even for breakfast. A bowl of oatmeal is good but eggs are way better and delicious. You can share this meal with friends or family members—just remember to double or triple the recipe for everyone to be satisfied.
Ingredients:
A cup of diced potatoes.
4 eggs.
1/2 onion(diced).
Basil or cilantro.
Two sausages (of your choice).
Preparation:
In a baking dish, add the diced potatoes followed with half of the spices. Cook at 350 F for about 10 minutes. Add the eggs then sprinkle the remaining spices. Wait for about ten minutes or until the mixture reaches your desired consistency. Remove from the oven, add diced tomatoes. Serve with salsa while still hot.
> You may also like:  Why America's Most Popular National Parks Need to Be on Your Bucket List <<
5. Rice And Savory Chicken.
Not only is this dish delicious but very simple to prepare. Additionally, you can prepare this dish in many ways: tomatillo, tomato but broth-based dishes make the best option meaning you'll never get bored. This recipe gives you the simplest of all because you definitely need to prepare what have in hand.
Ingredients:
4 chicken thighs.
A cup of rice.
A cup of water.
Diced vegetables(onions, tomatoes, garlic, mushrooms, and zucchini).
Any spice mix.
A half-cup of tomato sauce.
One 16gOz chopped tomatoes.
Preparation.
Mix everything at a go in one oven-safe cooking dish and bake for around 25-30 minutes at temperatures of 350 F. It simply doesn't get much easier. This dish feeds a group of four or less quite efficiently in less than 30 minutes.
BOTTOM LINE.
To have less hustle when coming up with recipes to prepare while in your RV, choose dishes that require more or less the same ingredients. This not only makes food preparation much easier but ensures storage is not a problem too. I hope you will find these recipes convenient and fun to make.
>> You may also like: 25 Best National Parks in the USA  <<