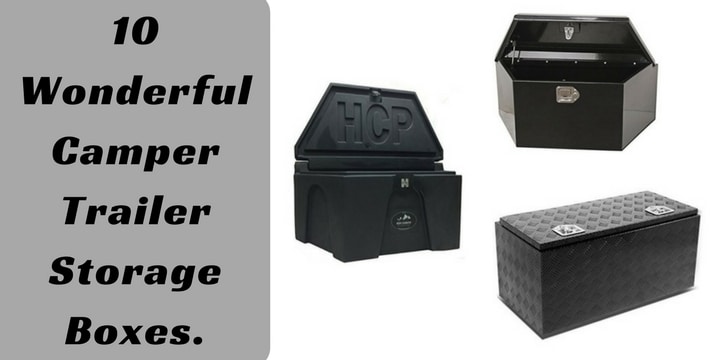 10 WONDERFUL CAMPER TRAILER STORAGE BOXES
How many times have you not had enough room for certain items that you might be trying to bring with you on a trip? Take camping for example. Camping requires storing a lot of different items to bring with you, right?
Of course! What about work? Say you're a carpenter. Wouldn't it be nice to have a safe, and dry place to store all of your tools? Yes! So, wouldn't it be great if there was a storage box designed to do all of these things?
No more hassle of trying to find a safe place for the things that you want and need during your daily travels, or your spontaneous trips. No one wants to struggle with storage space.
It is stressful, obnoxious, and takes a lot of the fun out of traveling, working, or anything else that you may use storage boxes for. Listed below are just a few examples of the best storage boxes that are on Amazon, that might help you put an end to all of that madness.
1. Aluminum Pickup Truck 49″ Flat Bed Tool Box RV Camp Trailer Storage With Lock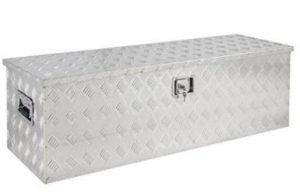 This 49"x15"x15" Flat-box is ideal to save space in a flat truck bed. Because of its flat nature, it can be used at home also but it's definitely made for a trailer. There is a locking cap available since it prevents the lock from getting in contact with water and dust to increase its lifetime. The approximate price of this gem is around $180 apiece which is reasonable for this durable box.
2. Dee Zee DZ91717P Poly Triangle Trailer Box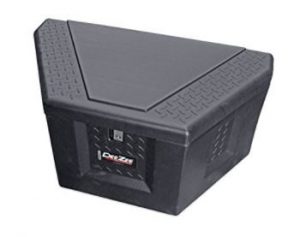 Being a good camper means efficient use of space in your trailer. This triangular box has a volume of 6 cubic feet and is made to fit the trailer tongues. It is made up of rigid Polymer Plastic frames. For extra support, it has a double-wall lid. It comes with a lockable hasp latch to ensure security. It weighs only 25 pounds and the price is just under $115.
3. Yaheetech Aluminium Trailer Truck Pickup Underbody under bed Tongue Tool Box Storage Box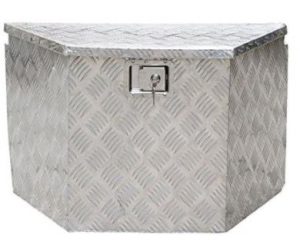 The trailer tongue always has an extra space that tends us to use it. This 28.7×15.7×18" Aluminium box is considered to be heavy-duty. It is made to fit your trailer tongue and with a weatherproof sealed door and heavy-duty hinge, this is an ideal product for campers. It can also be used under the bed. Its sleek weather and leak-resistant design help keep dust and moisture away. It weighs 112.4 pounds and costs just under $100.
4. High Country Plastics Trailer Storage Box, Black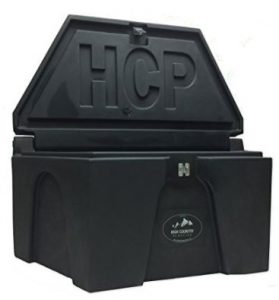 When utilizing your trailer tongue space you mainly consider two main aspects. Firstly security and secondly weatherproofing, this 32 x 7.2 x 6" product gives you both satisfactory results. The polymer material of the box which is UV protected combined with zinc plated latches ensures durability. The Polymer material is warp-resistant. It weighs only 17 pounds and its low weight justifies its cost which is almost $120.
5. Contico 37″ Portable Tool Box, Black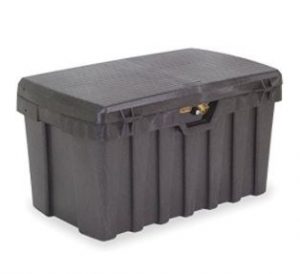 "The simpler the better" is a correct phrase to describe this product. This 36×23 x21" storage box is made up of Structural Foam. This product gets its attention away from an over beautified look and focuses on durability. This weatherproof box not only resists warping, but its rustproof metal hinges make it absolutely long-lasting. It weighs 31 pounds but only costs under $60. If you are low on cash this product is for you.
6. Haul-Master 2-3/4 cu. ft. Steel Trailer Tongue Box from TNM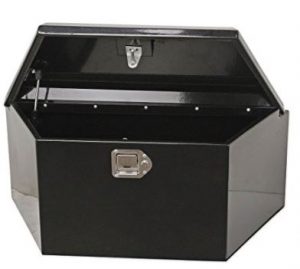 Not many storage boxes look that good as this product. This 16×14.25×34.12" storage box is made up of steel. The tough black polish and finish ensure protection from abrasion and corrosion. It comes with a heavy-duty flush mount locking latch with non-universal keys which makes it as much secure as possible. It weighs a whopping 48.8 lbs. and costs about $150. Considering its durability and long-lasting capability, you will not need a replacement in the near future so it's worth the money.
7. Buyers Products Black Poly All-Purpose Chest (2.6 Cubic ft.)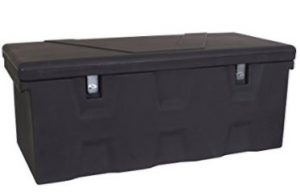 If you want to change the setting on your trailer every now and then you may be looking for a lightweight trailer storage box. This 13.5x15x32" storage box weighs just 16 pounds. Its body is made up of polyethylene which makes it that much lighter weight. With 2.6 cubic feet volume, it's for everything you need during traveling. The double-wall hinged lid and weather and corrosion-resistant stainless steel hasp and hinge make this box secure. It's lightweight but rugged is made to mount to the front of A-frame trailers. This costs around $90 and it's worth it.
8.Yaheetech 24″L Aluminum Truck Trailer Pickup Tool Box Flatbed Storage w/Lock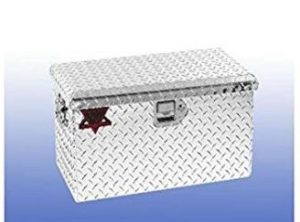 This 23.6×15.7×17.9'' box is made up of an aluminum alloy material that is why it has robust load-bearing ability and a stylish appearance. It is fully welded and the material is corrosion-resistant. Because of its lightweight, it reduces the gain on trailers. It weighs only 21 pounds and costs $75.
9. BRAIT Aluminum Truck Pickup Underbody Underbed Tool Box Trailer Bed Rail Storage (24″, Black)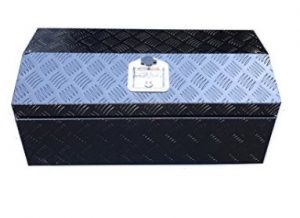 This box is specially designed in a way to save space and provide a little bit more of the space under the trailer bed. It is made up of a 1.5mm aluminum plate with a silver finish. The door is weather-resistant and sealed with 3 stainless steel hinges. It is one of a downward open type box that is fully welded. This weighs 25 pounds and costs $130.
10. Auto Dynasty 36″x18″x16″ Aluminum Pickup Truck Bed Trailer Key Lock Storage Tool Box (Black)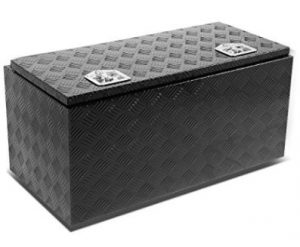 This box is made up of Aluminium material which has a 5 bar tread pattern on it. It strengthens the box to increase durability. This 36x18x17" box is made to mount under the trailer bed. The over-hanging lip is water-resistant and remains durable in any type of weather. The lock for this box is built-in and provides security at maximum. This box is expensive and costs around $180 but durability is at its best.
Related Post: 45 RV Accessory Must-Haves for Your Travel Trailer
3 best Caravan A-frame storage boxes:
Diamond plate Aluminum trailer tongue truck box. You can check the price on Amazon here.
ARKSEN 33 Diamond plate Aluminum trailer tongue box. You can check the price on Amazon here.
MAXXHAUL- Aluminum trailer tongue box. You can check the price on Amazon here.
3 best Caravan rear bar storage boxes:
ARKSEN Aluminum all-purpose truck underbody lock storage. You can check the price on Amazon here.
ARKSEN set of 2 24-inch Aluminum truck underbody toolboxes. You can check the price on Amazon here.
Lund Challenger Series Brite ATV rear storage box. You can check the price on Amazon here.
Conclusion:
All of the products that I have listed above are absolutely worth the selling price. Each of these storage boxes is spacious as well as durable, and will more than likely meet your needs if you are shopping for this type of product.
The products listed above will more than likely hold whatever it is that you are trying to store, as well as keep your items dry and safe from damage. So, why not give one of these products a try? I am almost certain that you won't regret it.
Are you tired of struggling with storage space when it comes to traveling? Of course, you are. So which one of these fantastic products is for you? There's only one way to find out.
Go on Amazon right now and take a look, save yourself the headache that comes with not having storage space, and enjoy your adventures free from the stress of not having room for the things that you need, use, and love. Order one of these storage boxes today! You won't be sorry.
>> You may also like: Least-Visited National Parks: Why They're Worth a Look<<