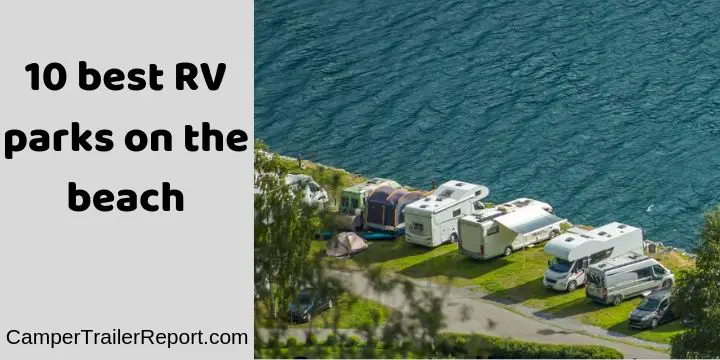 10 best RV parks on the beach
What is better than chucking a bag of clothes (don't forget the kids) into your RV, and hitting the road?
1. SEA & SAND RV PARK – Depoe Bay, Oregon
Sea & Sand RV Park is a pet-friendly RV and campground site which offers their guests some spectacular summer sunsets and you could even stay in winter and watch the storms whiz past.
Sea & Sand offers activities for the whole family to enjoy, like fishing, whale watching, bird watching, and it is situated about 1 mile from an 18 hole golf course.
Video Overview: Sea and Sand RV Park, Depoe Bay, OR
2. BLUEWATER KEY RV RESORT – Key West, Florida
Treating their guests like royalty by hand-delivering kayaks to your RV door, relax under your very own thatched-roof tiki hut and enjoy a few sundowners while enjoying the stunning sea view.
Video Overview: Key West/Bluewater Key RV Resort
3. CARRABELLE BEACH RV RESORT – West Carrabelle, Florida
Carrabelle Beach Resort offers amenities such as a fenced-off dog park, a large swimming pool for you to enjoy, a clubhouse and an onsite convenience store. Whether you have children, furry friends, or just you and your partner, Carrabelle has everything you need.
4. FORT MYERS BEACH RV RESORT – South West Florida
Fort Myers and their friendly staff are at your disposal when it comes to dancing lessons, water aerobics, arts and crafts, and even ballroom dancing. Fort Myers is perfect for the whole family, including granny and grandpa – that is if they enjoy laying around relaxing or even playing cards!
Video Overview: Ft. Myers Beach, Red Coconut RV Park | Traveling Robert
5. MALIBU BEACH RV PARK – Malibu
Malibu Beach RV Park is open 365 days a year and you are bound to get either a sea view or a beautiful mountain view to enjoy. Malibu Park is situated right by the sea so you can enjoy the beach all day by fishing, whale watching in whale season, surfing, and body boarding.
Video Overview: Malibu RV Park
> You may also like: 12 Best Waterfront RV Campgrounds: You Need to See. <<
6. NORTH LANDING BEACH RV RESORT – West Virginia
Situated on a private beach, North Landing allows you to safely enjoy the beach and the sea by just taking a step out of your RV. There are also some hiking trails nearby for nature lovers.
Video Overview: Review of North Landing Beach Campground and RV Resort
7. RED COCONUT RV PARK – Fort Myers, Florida
The vintage-styled park is the best place to be to celebrate the Superbowl, each year there is a Superbowl party where you will have full use of their grills and access to the clubhouse.
Video Overview: Weekend at the Red Coconut RV Resort- Fort Myers Beach, FL
8. PARADISE BY THE SEA BEACH RESORT – San Diego
A stone's throw away from Legoland, but more importantly, this resort has the best access to the beach in Southern California. Catch the waves bright and early and avoid all that unnecessary traffic.
9. MOODY BEACH RV CAMPGROUND – Portland
If you are looking for a memorable holiday, visit Moody Beach RV Campground and enjoy their planned activities for the whole family, enjoy bocci ball, live entertainment, card playing, and volleyball.
10. WEST PALM BEACH / LION COUNTRY SAFARI KOA – West Palm Beach
Have you ever woken up to lion's roaring? Enjoy a Safari at Lion Country Safari KOA, and then go for a dip in our heated pool, come join us at our ice cream social and just relax at our homey RV resort.
> You may also like: 25 Best National Parks in the USA  <<
Related Questions:
Which are the best RV campgrounds on the Beach East Coast?
There are surprisingly very few RV campgrounds on the beach along the East Coast. Although most campgrounds are located near the ocean, they do not offer good views from their sites.
For this reason, most RV campers are interested in RV campgrounds that are on the beach, not near the beach.
If you manage to get a campground that is actually on the beach, you get to enjoy some of the gorgeous views on the East Coast from Maine to Florida. Below, I have highlighted three of the best RV campgrounds located right on the beach of the East Coast.
• Libby's Oceanside Camp
Imagine the calming sounds of ocean waves lulling you to sleep, breathing in the invigorating smell of salt air, waking up to the amazing natural views and on a clear day, waking up to the sight of the Nubble Light, one of the most photographed lighthouses in Maine, all these and more are what you expect to experience when RV camping at the Libby's Oceanside Camp.
• Massachusetts Sandy Neck Beach Park
This 4,700-acre beach park offers a campsite located directly on the beach. The management of the park, however, requires that all campers to ensure that their RVs are equipped with septic tanks and grey water. A basic beach driving test is also conducted to ensure that your RV is capable of maneuvering through the sandy beach.
• New Hampshire Hampton Beach State Park
All along the coast of New Hampshire, Hampton Beach State Park is the only RV campground that is located directly on the beach.
Which are the best RV Campgrounds on the East Coast?
Starting from the rugged Atlantic Coast of Maine up to the warm, welcoming waters of the Caribbean in the Key West, the entire East Coast has a lot of natural wonders that RV campers can enjoy. In this section, we are going to look at three of the most incredible RV campgrounds that every RV camping enthusiast should add to their bucket list.
• Cape Cod Campresort and Cabins
Cape Cod Campresort and Cabins is located in the most beautiful Cape Cod Town of Falmouth, Mass district. It is a family-friendly RV campground with over 230 camping sites sitting on a 55 acres piece of land.
• Camp Hatteras RV resort and campground
This RV campground stretches all across the Outer Banks, starting from the Pamlico Sound up to the shores of the Atlantic Ocean.
• Blue Water Key RV Resort
This is a luxurious RV resort located along the Key West RV paradise in Florida. It is a private resort situated on a small beach strip so that campers can enjoy ocean water right at the foot of their campsite.
Which are the Best Gulf Coast RV parks on the Beach
There are several state parks, and other upscale resorts situated on the Gulf coast RV camping enthusiasts can get to enjoy unlimited amenities just a short walk from the white sandy beaches. And here are some of the best RV parks on the beach:
Malaquite Campground, Padre Island National Seashore
Galveston Island State Park
Gulf Waters RV Resort
They have a peaceful setting complete with palm trees, pergolas, palapas, a boardwalk, and a pond.
> You may also like:  Why America's Most Popular National Parks Need to Be on Your Bucket List <<