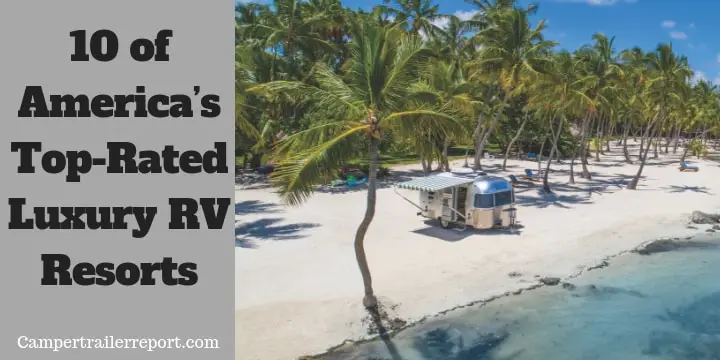 10 of America's Top-Rated Luxury RV Resorts
A Recreational Vehicle which is commonly known as an RV is a home on wheels. It was designed to accommodate all you need as you travel with your family from place to place.
They are quite convenient and save on accommodation and food cost. As you plan your RV journey it is important to know which lovely RV resorts you can stay at and enjoy lovely amenities that will make your trip unforgettable.
Some of America's Top-Rated Luxury RV Resorts that you can consider are:-
1.Bluewater Key RV Resort inKey West, Florida.
You are guaranteed to enjoy the lovely Florida weather and go for swimming, fishing, and even boat riding. It costs start from $ 90 per day and your RV should be at least 24 feet long.
Video Overview: Blue Water Key RV Resort as seen on RVTV
2.Hearthside Grove Luxury Motorcoach Resort in Petoskey, Michigan.
You will enjoy an outdoor bonfire, a lovely pool, and delicious cuisines. It may cost around $ 40-$150 per day during the peak seasons like the summer.
3.Las Vegas Motorhome Resort in Nevada, Florida.
It may cost you around $ 70 per day. You will be able to experience and enjoy fine dining, the spa, theatre and golfing.
4.Mountain Falls Luxury Motorcoach Resort onLake Toxaway, North Carolina.
It may cost approximately $ 70 per day. The resort is situated in a lovely area surrounded by an environment full of beauty and tranquility that will help you relax and enjoy amenities such as swimming, playing golf, pickleball, and tennis. This resort requires your RV to be at least 26 feet long.
5.Newport Dunes Waterfront Resort & Marina on Newport Beach, California.
You will enjoy the lovely scenery of the beach, go swimming, or kayaking. Rates start at $ 64 per day and this resort accepts all types of RV and trailers except converted buses.
6.Zion River Resort inVirgin, Utah.
They accept RVs of different types and sizes and the cost per day range from $35- $72. In the resort you will get a chance to experience spa services, shopping for gifts, mining for gems with the children, swimming and even visiting the Zion National park.
Video Overview: Zion River Resort Campground Segway Tour Virgin,Utah
7.Normandy Farms Family Camping Resort in Foxboro, Massachusetts.
This resort like the name suggests consist of activities that the whole family will love and enjoy. The children can visit the bike park and the parents can enjoy the spa or the golf course. A dog park is also available for those with dogs. The price starts at $78.
8.Polson Motorcoach RV Resort in Polson, Montana.
Here you will enjoy the lovely and breath-taking view of Flathead Lake. You are also guaranteed to enjoy yourself at the Glacier Park or at the gym and while barbequing near a fireplace. The cost ranges from $75- $118.
9.Tiger Run Resort in Breckenridge, Colorado.
This is a good place for those who love to ski especially during the winter. You will also enjoy mountain climbing, hot tubs, going to the gym, game rooms and a bonfire place. It costs start from $80.
10.Everglades Isle Luxury Motorcoach Retreat inEverglades City, Florida.
This resort is found in the Southwest OF Florida on Barron River. It is the best place for those who love fishing. You will also be able to enjoy going to the movies, the spa, the pool, and a bar. It costs $110 a day.
Please contact the respective resorts for more information on the prices and offers because prices vary depending on the season. Choosing to stay in a luxury RV resort may be costly, but believe me, it will be money well spent. You never want to leave.