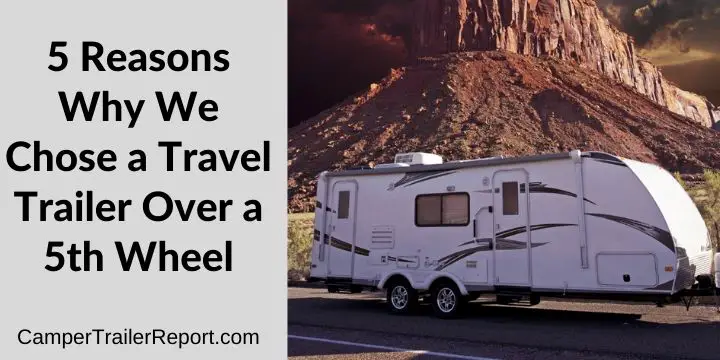 5 Reasons Why We Chose a Travel Trailer over a 5th Wheel
Travel trailers are among the most popular types of recreational vehicles that are non-motorized. They offer exciting camping experiences for individuals who want to explore the world.
Travel trailers are usually towed by another vehicle and don't come with an engine like the 5th wheel. They also come with a wide range of sizes and models. You must understand the advantages or benefits of a travel trailer before investing in one. The following are some of the reasons that make a travel trailer a good option over the 5th wheel;
Affordability
The cost of buying a travel trailer tends to be less as compared to the 5th wheel simply because they don't come with an inbuilt engine. A travel trailer is also very long-lasting and can be used for a very long time.
During your traveling, you will only need to fuel one vehicle instead of two if you had a 5th wheel. This makes the overall cost of buying a travel trailer to be much cheaper as well as the cost of running it. A travel trailer is very ideal for budget-minded individuals.
> You may also like:45 RV Accessory Must-Haves for Your Travel Trailer<<
Easy to tow
Travel trailers are generally easy to tow as compared to 5th wheels. Travel trailers are one of the recreational vehicles that are simply hitched on to a vehicle and one gets moving. Once they are properly hooked up, it is much easier to move around with them.
Most dealers of travel trailers provide their customers with essential tips that they can use to successfully hook them up to their vehicles.
Video Overview: 5th Wheel vs Travel Trailer – You Choose!
Convenience
This is one of the biggest advantages that comes with a travel trailer. They normally don't pose restrictions when it comes to luggage. Therefore, an individual can pack other extra items such as sports gear, games or even food.
On the other hand, once you reach your destination, you can always unhook the travel trailer and use your vehicle to tour around the area or even run some errands with it. A trailer also allows easier parking.
Video Overview: Towing a TRAVEL TRAILER vs FIFTH WHEEL! Differences and what you need to know!
Low maintenance costs
Unlike the 5th wheel that comes with their inbuilt engines, travel trailers don't require one. They simply rely on another vehicle to move around. This makes their maintenance to be easier since you will only need to fine-tune the other parts of the trailer such as wheels.
These parts only require maintenance due to the wear and tear process. Besides, most of these maintenances doesn't require engaging a mechanic and an individual can perform them on their own. This makes the general maintenance costs of a travel trailer to be very minimal.
Flexibility
Travel trailers offer more flexibility when it comes to an individual's travel arrangements. It is an ideal choice for those looking for the most flexible holiday experience. They ensure complete freedom and one doesn't have to adhere to a strict schedule.
With a travel trailer, one can stop at any place and at any time they wish to. One is given the freedom to extend or shorten their stay in any place. Also, one can make destination changes at any time.
Travel trailers are a fun way of making your travel experience worthwhile.
You may also like:Worst 5th Wheel Brands to Avoid <<
 Related Questions:
#1. Why are fifth wheels heavier than travel trailers?
One of the main reasons is that a large majority of 5th wheel trailers are larger than travel trailers. Not all, but this extra size, and the more features the 5th wheel trailer has inside, make it a lot heavier than travel trailers.
The plus side of being heavier means that the 5th wheel trailer is more stable and does not swing from side to side very easily.
#2. What is the most popular 5th wheel travel trailer?
There are quite a few models of 5th wheel trailers that are very close to each other in popularity. The leader can easily change from one month to the next but for now, the Keystone Montana fills the #1 spot.
It comes with 22 different floor plans making sure the owner gets the design they want or close to it. Plus, it is built to handle all weather conditions in all seasons.
Video Overview: 2021 Keystone Montana Fifth Wheel Updates | New changes
> You may also like: 25 Best National Parks in the USA  <<
#3. Should a 5th wheel be level when towing?
The ideal when towing is to be absolutely level. But achieving that ideal is difficult when you are traveling through the hilly ground or the western mountain ranges. Sometimes you also run out of adjustment room on your pin box and can't reach level.
Being within a couple of inches, either way is not going to harm your tow vehicle or your 5th wheel. Besides towing the trailer your other concern is your appliances. Your fridge needs level to work properly but if the trailer is out of level for a short time then that appliance should not be affected.
Video Overview: Should a Travel Trailer be Level When Towing? Answered | The Savvy Campers
#4. What is the best 4 season travel trailer?
It is hard to give just one as there are so many good 4 season trailers on the market today. So we will give you five to compare and you can pick the best one for you:
Keystone Montana
Jayco Jay Feather Travel Trailer
Dutchmen Aspen Trail Travel Trailer
Livin Lite Camplite Travel Trailer
Heartland Bighorn
Each one has its own little nuances that will match up with different lifestyles and personalities.
#5. What size truck Do I need to pull a 5th wheel?
The best truck size is a 1 ton pick up truck. These vehicles have the power and the towing capacity you need. BUT with that said, you can also get away with using 1/2 ton and a 3/4 quarter ton pick up as long as those vehicles are rated for the weight that comes with your 5th wheel.
Video Overview: 5th Wheel towing – Is your truck big enough?
#6. How do you adjust the height of a fifth wheel hitch?
For a basic explanation, you simply move the bolts from the lower holes to the upper holes on the hitch. You need at least 6 inches of clearance between your truck's bed walls and the bottom of the trailer's loft.
> You may also like: Least-Visited National Parks: Why They're Worth a Look<<