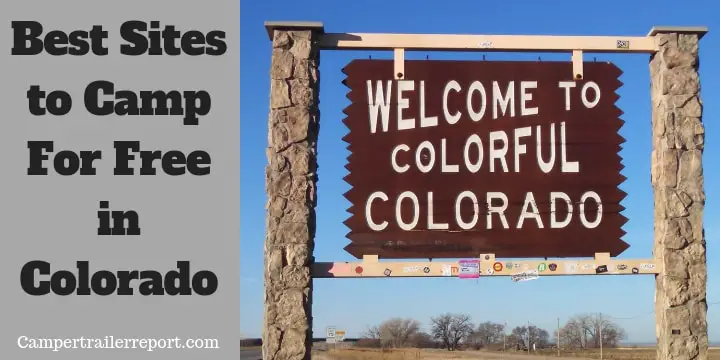 Best Sites to Camp For Free in Colorado
Whether it is during the flourishing of spring or the sunny summer days, a lot of people would vouch for camping as their choice of activity to spend on the holidays.
For couples, they consider it a romantic getaway. For families, it is a retreat. Colorado has two sides: their busy city mice living their days away and a mountain range full of a variety of wildlife and flora. So in the state of Colorado, I give you the best sites to camp for
free in Colorado:
Two Lakes
The free camping site is called South Mount Elbert and you should be wary for a very rocky cliff's side. Larger recreational vehicles can easily drive through the first few miles into the cliff side but within the middle to the end, you have to drive in a steady and slow pace. Over the cliff, you would be then treated with a breathtaking view of the mountain range and the lakes.
Crested Butte
The finest little town of the state of Colorado would be Crested Butte. It is a paradise for those whose hearts are with Mother Nature. Washington Gulch is submersed of service, endless areas for campsites and infinity of glades with wildflowers sprouting up here and there with the mountains that surround the beautiful Crested Butte.
> You may also like:45 RV Accessory Must-Haves for Your Travel Trailer<<
Telluride
The gorgeous scenic view is definitely something everyone wants to see when traveling or camping. To get there, you have to go through the Last Dollar Road. It guarantees a wonderful drive through peaceful farmlands and pristine mountains.
Silverton
It was a former little town whose economy relied on mining, now it can be a little playground for those who are absolutely fond of the past with a spectacular view of either Durango or Ouray. Several large areas for free camping and has a good signal! It would prove difficult for you not to have a lovely view of the mountain ranges and the rivers.
Pagosa Springs
After fifteen minutes of driving up Jackson Mountain Road, they have proven to have one site that still provides ample bars of signal for you. If no one takes that spot, it has the natural blending of woodland splendor and a clear opening for camping that is also spacious.
Buena Vista
A little know yet a very peaceful town. The Arkansas River flows down and is just north of Buena Vista is a quaint little plot of land, of dirt and pits for rock fire and some pine trees. It would be a little difficult to navigate through the forests with a large trailer or medium-sized recreational vehicle. The road is one way but once you reach the campsite you think is perfect; you would meet the most tranquil days or weeks of your life.
Lyons
Home to one of the finest towns at the Front Range and is much more family-friendly. Perfectly seated in the middle of Estes Park and Boulder that would allow you better access to every necessity you need. Some areas offer very impressive views with vast sites and can be very quiet and peaceful.
> You may also like:Worst 5th Wheel Brands to Avoid <<