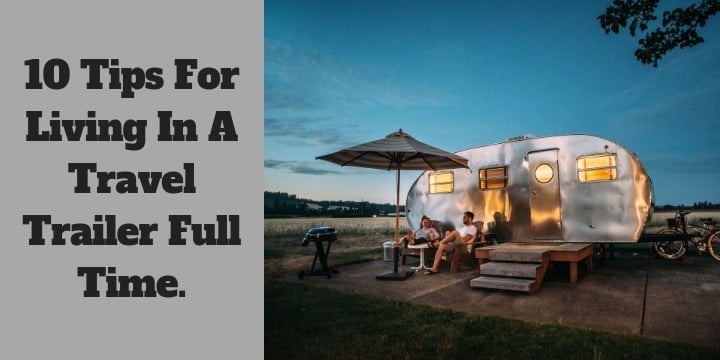 If you are considering living in a travel trailer full time, there are a few things that you should know. The good news is, is that you do not have to have a lot of money to do these things. You will be surprised at just how simple these are.
Consider The Layout.
The layout of the trailer is much more important than its size. Something may be big, but it does not mean that it will be better.
A small space can work much better than you might think. Everything in your trailer can be strategically laid out in specific areas to give you the space that you need. It is easier than you think.
Take some time to consider what you do not need, and what you really need. You'd be surprised at some of the things you really do not need.
An oven, for example, may not be needed because there are other options that you can use to take its place. Consider using a slow cooker or Thermomix instead.
Or you can simply by food that requires an oven from the supermarket or takes away the restaurant.
RV Protection.
When living in a travel trailer full time, it is a good idea to have some sort of protection. You want protection from rain and storms. And you want some protection from extreme sunshine.
Portable RV garages are worth getting. It doesn't have to be huge but it should be enough to protect you from the unwanted.
A small shed could be worth building if you want to store some items in. This will give you more space in your trailer and you can get them out only when you need to use them.
> You may also like: How to winterize RV without antifreeze?<<
Power.
It can be very hard to live without power.
Consider purchasing a portable generator. A generator will allow you to use as much power as whatever watt's you have purchased as you need. You will not be left in the dark with this.
Get Some Portable Solar Panels.
Did you know you can get portable solar panels? If living in a trailer full time these will save a lot of power for you. During the summer seasons, you will not need to use the generator often as the sun will provide sufficient power for you to use each day.
Cooking.
Cooking is extremely important when living in a trailer full time. Always keep your meals as simple as possible. Cook in bulk as often as you are able. Prepare vegetables in bulk. Go out of your way to use barbecues to cook most of your food on.
Organization.
To help maintain space and keep things tidy, it is important that you are as organized as possible. Always store things in suitable and strategic places. Make the most of the bins. Clean and tidy up as you go. Never leave this until later. Put off buying things for as long as you can.
Sleep Well.
Having good nights sleep is important for everyone at all ages. It does not matter where you are sleeping or what you are sleeping on. Make sure that you have a good quality mattress that you are comfortable on. Sleep on dark sheets. This can hide spots and stains for a certain amount of time. Make the bed every day.
Stay Warm.
During the winter season, it might get extremely cold during the day and night. To keep warm, we recommend using heat tape, keeping the heater on to not more than 50 degrees and get as much air in your trailer as you can.
Water.
Having fresh water is a must. Not only for washing with but also for drinking with. Always have at least six gallons of tanks on hand to fill them up with. This will stop you from running out.
Wardrobe Space.
Trailer wardrobes will not have a lot of room in them. Only hang clothes in it that you really need. Only have clothes that are suitable for the current season. Store other clothes in the vehicle or other storage shed or buy op shop clothes when required.
Keeping The Trailer Clean.
You'd be surprised at how dirty trailers can get. It is always a good idea to give it a sweep every day. Clean all surfaces with a suitable towel or rags. Keep the shoes outside by the door. Have a doormat by the door.
As you can see, there are all sorts of things to remember if you are living in a travel trailer full time. We hope that you have found these tips helpful and we wish you the best of luck.
You may also like:45 RV Accessory Must-Haves for Your Travel Trailer<<
Related questions:
5 FULL-TIME STATIONARY RV LIVING TIPS
Our First Pro Tip – Get a BIG RV
In the event that you will be living in your RV, I recommend getting the greatest one you can manage. You are going from your present housing and moving into a lot of little space.
This absence of room will be extremely discernible, regardless of whether you are originating from a studio loft or little home (anything short of 1000 ft2).
You are as yet going to work and carrying on with your regular day to day existence, just in a little space, so why not make that little space as large as could be allowed?
Try not to Buy a Tow Vehicle
In the event that you are purchasing a movement trailer or Fifth Wheel, you will require an approach to get it from wherever you obtained it to the campground/RV park, and so on where you will live.
Try not to Sell Your Second Car
Alright, in the event that you have a second vehicle, I suggest you keep it except if you completely need the cash.
We had 2 vehicles before we begun RVing and we sold both and purchased our truck.
While we don't lament moving our vehicles, we required the cash at the time, we immediately saw that when you aren't voyaging, having just a single vehicle is unpleasant. Having 2 vehicles is an extravagance, I realize that most American families consider it to be a need, however, it is in-truth an extravagance. For your own mental stability, I state to go for the extravagance and keep that second vehicle.
It will enable you to probably be out on the town and not feel stuck inside your RV (particularly on those blustery days).
Stay Somewhere with Amenities
RV stationary living is to set aside extra cash as well as in light of the fact that other living courses of action are not moderate, yet there are approaches to be a cheap RV and still have some amenities. one approach to do this is to get an occasional or yearly site at an RV park, for example, one in the Thousand Trails RV park framework. These participations are modest and every one of their parks has play areas, pools, clubhouses, and so forth
Try not to Let People Make You Feel BAD, GUILTY, ETC. About Your Living Conditions
At the point when individuals begin speaking adversely about your choice to begin RV stationary living, recall why you are doing this. You are Living inside your methods, being capable and a grown-up carrying on with the best life that you can
THE COST OF LIVING IN A RV FULL-TIME
What's more, as one would envision there is no standard answer. The appropriate response is very close to home and changes from individual to individual dependent on close to home living style and salary.
Focal points OF LIVING IN A TRAVEL TRAILER
1. You can't lose anything for long in under 200 square feet
2. On the off chance that the climate is awful, you can move
3. On the off chance that the area is uproarious, you can move
4. No depiction, ever!
5. No leaves to rake or bushes to trim, or drains to clean
6. Power blackout, city water framework down? No issue in a movement trailer
IS LIVING IN A RV ILLEGAL?
Without referencing state or the province. that is essential. They presumably have a law that would will in general shield individuals from outdoors and cutting down an area. More often than not when you are out in the region as opposed to the city the guidelines reduce, contingent upon where you live
THE BEST TRAVEL TRAILER FOR COLD WEATHER
WINDJAMMER 3008W
Travel trailers are perfect for novices as yet becoming accustomed to the RV life and the Windjammer 3008W travel trailer does not baffle. With space for up to five beds, you can don't hesitate to bring your closest companions or family.
The winter driving highlights that make this Trailer worth trying are:
Insulation over the entire trailer
Electronically-controlled warmed holding tanks
Thermo-sheet window updates
Heated sleeping cushion in the main room territory
Fireplace update
Video Overview: 2017 Rockwood Windjammer 3008W Front Kitchen V-Nose Ultra Lite Travel Trailer –  HaylettRV