Full Time RV Living: 8 Questions Everyone Asks About
Full-time RV living creates room for people to ask tons of questions that can be pretty easy or really difficult to answer. The questions that everyone frequently asks include:

1. What are the costs incurred while living in an RV full time?
Just like ordinary vehicles on the road, an RV incurs the basic costs like maintenance costs, insurance costs, parking fees and fuel costs. However, these costs may vary depending on the size of the RV, the comfort you are looking for and the distance traveled.
Other costs that might be incurred while living full time in an RV include phone and mailing bills, Internet bill, groceries and other miscellaneous costs that might be incurred on the way. Depending on your budget, you can always make a decision on what to add or reduce while living in an RV.
2. Is it possible to live in an RV full time in a park and how much does it cost?
It is possible to live in an RV in a park for as long as you want and you can even turn the park into your home if you do not have plans of traveling anymore. Parks provide basic amenities such as bathrooms, internet, and pools. Fees for such parks may cost from as low as $30 to as high as $100 a night.
Additionally, some parks sell fuel in case you decide to hit the road yet again. Before making a decision to live in a park, consider the following:
a. Location
Parks are located in different towns and geographical locations. Depending on where you want to live, you can always choose the ideal park that suits your needs.
b. Security
While choosing a park for full time living in an RV, find out how safe and secure the park is to avoid theft and other costs that may be incurred due to lack of adequate security like extra locks.
Video Overview: The Positives – Of Full time Living In An RV Park!
3. What are the best RVs to live in full time?
There are many RVs options out there and you can always purchase one depending on the amount you budgeted. Like any other form of living, consider an RV fitted with all the necessary amenities such as a restroom with a blank tank to dispose of waste, a bathroom, a kitchenette with a freshwater tank for consumption. The best type of RVs to live in include:
a. Motorhomes
Motorhomes, just as the name suggests is a home with a motor. They are vehicles customized to provide a living space and are equipped with bathroom and kitchen amenities. They are classified into three categories depending on the size of the vehicles.
Class A motorhomes are large busses fitted with luxurious finishes and slide outs that increase the spaces once extended outwards.
Class B motorhomes are vans that are customized by raising the roof or extending the backs to resemble a coach. This increases the space in the RV.
Class C motorhomes are the smallest and the most inexpensive to maintain. They are fitted with a front engine and basic amenities for RVers.
b. Fifth Wheel Trailers
These are semi trucks fitted with a
fifth wheel
coupling meant to tow the trailer. The fifth wheelers are large and can accommodate a complete house. Additionally, they offer privacy due to the compartments created. These trucks can be repaired at any shop in case of engine problems and this makes them ideal for slow traveling.
c. Travel Trailer
This is basically a wagon or a trailer pulled by a truck or a van. These
travel trailers
are also fitted with amenities and can also offer extra space if fitted with slides. They are cheap and light to carry while on the road.
Video Overview: WHAT IS THE BEST RV OR VEHICLE TO LIVE IN FULL TIME? PART 1/2
Video Overview: Best RV for Full-Time Living | How to Choose an RV to RV Full Time
4. What are the 5 most important full-time RV living tips?
Whether you planning to live in an RV or you are currently living in one, it is important to prepare a budget and consider the costs to be incurred. This can help one decide on the most affordable RV within the planned budget and also helps one cater to untimely breakdowns that can be costly.
Have an open mind and be ready for changes that might occur on the way like weather changes and failed engines.
Creating helps you crosscheck your activities and items against a list and this reduces the possibility to forget important activities or miss deadlines.
Despite being advised to pack lightly, consider stocking your commodities or replenishing the depleted commodities as often as possible to cater for the unexpected.
The right RV guarantees your satisfaction and this makes it easy for you to take that bold step and live in an RV full time.
5. How do you get mail, Internet?
If you want to get your mail on the road you can use a company like Escapees to help you with that.
The best way to have internet in almost all 50 states is to have an unlimited Verizon plan so you can tether from your phone.
Wifi is available in the most camping parks but can be very slow. If you want to work or you need fast internet you should invest in a cell booster. It is very helpful in places with low signal. I use WeBoost cell booster and it makes a big difference.
Video Overview: How to get Mail & Internet while RVing Full Time
6. Can I live in an RV in my own land?
The answer is yes, you can live in an RV in your own land and while you are at it, maintain a yard and a garden. Benefits of living in your own land include.
  Reduced bills as there are no electric and sewer bills
 Offers security and privacy as there are minimal interference and interactions with outsiders and strangers.
  Taxes paid are significantly reduced as you do not pay any taxes for your RV.
Despite the benefits, the disadvantages of living in an RV on your own land include:
  You get to pay taxes for your land and it becomes costly in the long run
 It can be a source of insecurity if the RV is located far away from other people or towns.
  It adds extra costs if you connect to electricity, water, telephone, and internet.
7. What does one need to know when living in an RV during winter?
Winter can be extremely cold and if you are not well prepared, you might fall sick or end up freezing to death. To overcome this, Invest in double paned windows with increased insulation that would help retain the heat inside the RV. Also, invest in a heating system inside the RV and lastly cover and protect water from freezing as this reduces the heat lost when water is defrosting in the RV.
Video Overview: RV Living in Winter | What We've Learned | Full-time RV Living
8. What is my favorite place to visit?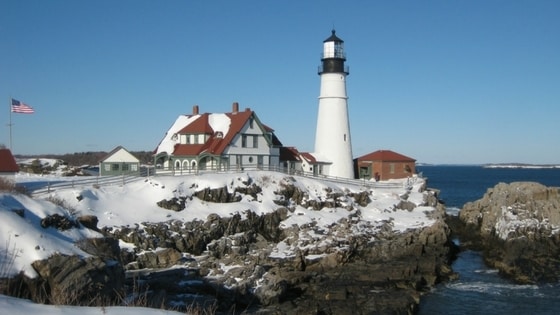 In the summer one of the best places you can visit in Maine with the ocean and the mourning sunrise. It is an amazing place. The other awesome place is to drive along the Pacific Ocean.
Video Overview: 25 Beautiful Places In The United States You Need To Visit Today