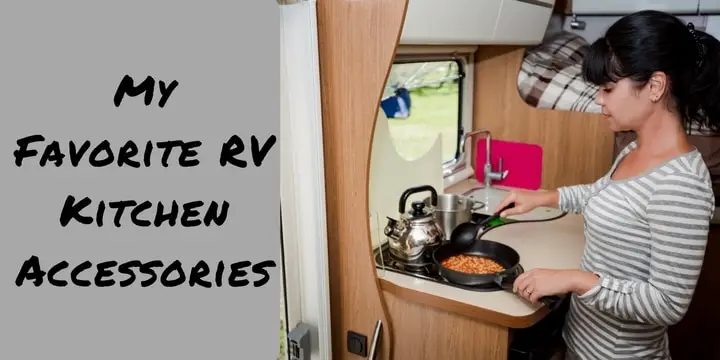 My Favorite RV Kitchen Accessories
Ask any RV enthusiast, and they will tell you that limited space has got to be the biggest challenge they face daily. More often than not, you will have to make trade-offs between what essentials to put in the camper trailer and what to leave behind when planning to hit the road. Most RV kitchens are smaller than the standard home kitchens, meaning that as a camper, you will have to make do with much less comfort and functionality than you are used to.

Having to consider what to put on your countertops, how to arrange your mini fridge, mini-oven, utensils, and cabinets in the small space can be a hard task. The right accessories will, however, make such decisions a bit easier for you. The following are my all-time favorite RV kitchen accessories, designed to solve your storage problems and make your kitchen more efficient and functional.
Coffee Maker
What better way to kick off your day than with coffee? Due to the risk of spillage and burns, an auto-shut off coffee maker is always better than a stove top coffee maker for those with safety concerns. On another hand, if you are looking for other alternatives that will occupy less space, the Moka Pot is the way to go. It uses up less space and does not need electricity.
Video Overview: RV Hacks and Tiny Space Solutions for the Kitchen
Drawer Organizers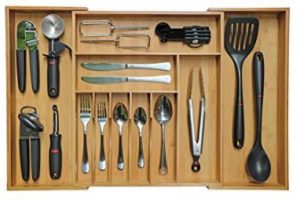 Drawer organizers are an absolute lifesaver for any camper looking to create and save space in their RV. Not only do they protect your utensils from wear and tear, but they also prevent the annoying rattling sounds utensils produce when you are driving. The drawers can be kept under your countertops.
Stackable Nesting Bowls and Measuring Cups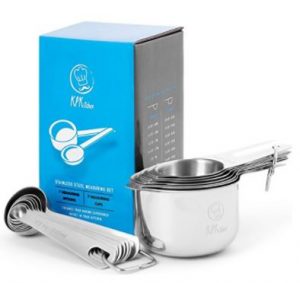 You do not have to stop baking or enjoying some of your best recipes while away from home. Stackable mixing bowls and measuring cups come in compact packages, making their storage a simple affair. Most stores sell these items in sets, complete
with teaspoons and tablespoons, mixing bowls, colanders, and sifters.
Dish Cradles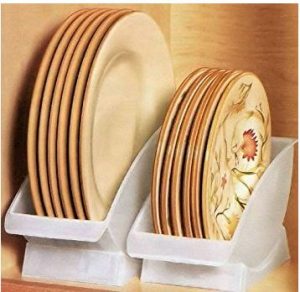 The fear of crashing your beloved ceramic plates is always real for any camper. Dish cradles are a go-to RV saving space idea. Apart from saving space, the cradles also protect your ceramic plates from breaking into pieces, especially when driving on a rocky terrain or encounter a sharp bend. They can also be used as a drying rack for the plates after washing.
Video Overview: For Beginners: SETTING UP AN RV KITCHEN – 7 Tips!
Dish Drainer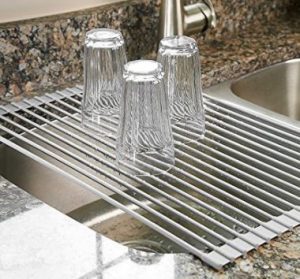 At any given point, you are going to have dirty dishes in your RV. A dish drainer comes in handy when in need of more sink space and on your countertop areas. It can be used to stack the dirty utensils and plates safely. The drainer is collapsible, and can thus be folded and kept away when done.
Hanging Spice Rack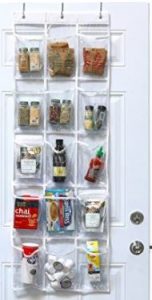 Tape a hanging spice rack to your wall for your spices storage needs. This will save you time and space, as you do not have to go reaching into packed containers looking for your spices.
Kitchen Cutting Mats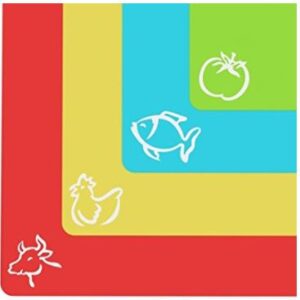 These mats are flexible and portable, making them a great idea for your camping trip. They will make your work easier when chopping up your vegetables, fruits, and meat. The mats are non-stick and therefore safe to use on your countertops.
Portable Oven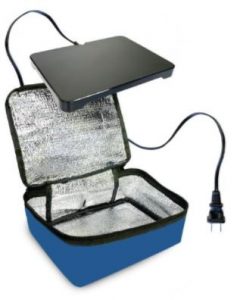 You probably want to enjoy some of your cooking and baking recipes while unwinding on your trip. Mini ovens are an efficient accessory to have on your RV. Most of these ovens come with a durable set that includes pans, a cooling rack, baking trays and
tins for baking and griddles for grilling purposes.
Disposable Plates and Cups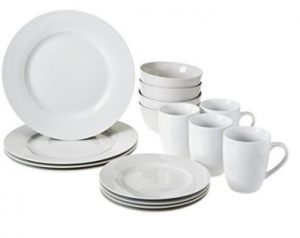 Disposables come in handy in case of water shortages, or when in need of a quick meal. Post-meal cleanups can be quite the daunting chore and inconvenience, especially when in a hurry. You can also get a dispenser for your disposable plates and cups, saving on more space.
Cupboard Bars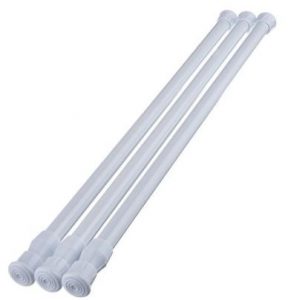 The frequent bouncing and turning off your trailer expose your kitchenware to the risk of breaking and crashing. To prevent this from happening, install cupboard bars in your cabinets to keep your breakable utensils in place throughout your trip. Alternatively, you could also install curtain tension rods vertically to your cabinets for the same purposes.
Related Post: First Time Travel Trailer Owner Tips, Beginner's Guide.