10 Camping Storage Ideas That Will Make You A Happy Camper
Camping will be more exciting when everything at the campsite is well organized. Putting everything in place with the space available in the campground will help in tracing your belongings during the time of camping. Some of the camping storage solutions that will enable you to love and enjoy every minute at the campsite are as follows.
Installation of bathroom baskets
Hang several plastics baskets in your bathroom to create more space. Notably, shower rods can be used to hang the baskets neatly. In case several people are in the camping area, use baskets of different colors for easy identification. Additionally, Items inside the baskets such as oils and shampoos can be hung the wall near a shower or a bathtub.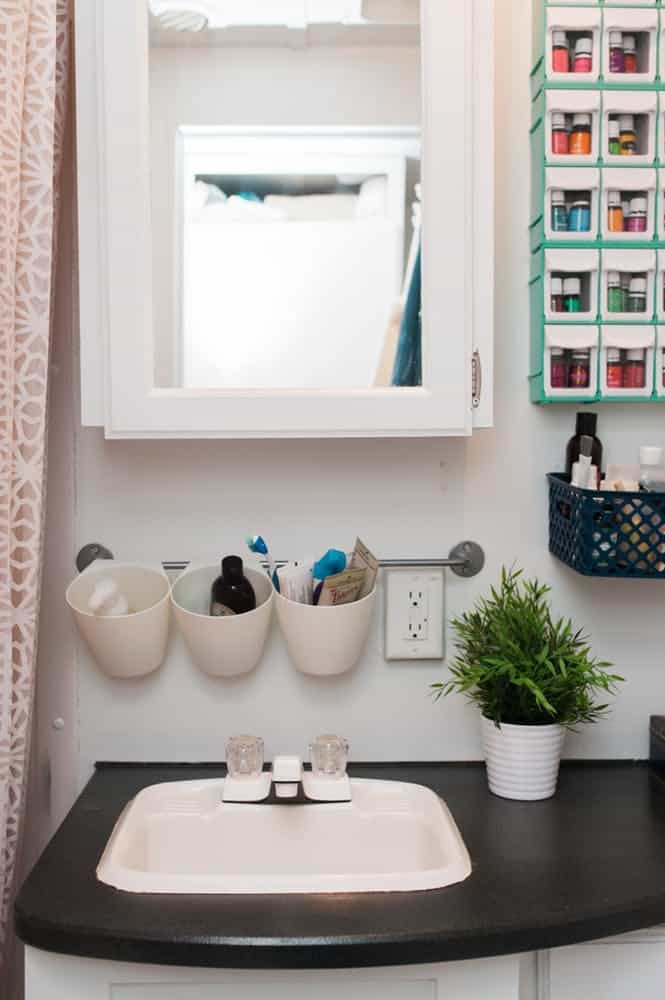 Found on Apartment Therapy
Carry a trash can
Camping is pleasing when there no litters around. Carry a trash can that will accommodate all the trash that will have accumulated during the camping period. Remarkably, some locations especial in the forests require one to leave with their trash hence consider the proper size of a bin. Also, to save the space, find a dumpster that is foldable and portable.
> You may also like:45 RV Accessory Must-Haves for Your Travel Trailer<<
Cloth storage solution
Space in the closet might be limited; hence, there is a need to arrange your items in a proper way. Consider using plastic drawers within the cabinet to put everything in its place. Additionally, set up cloth lines beside the closet and use them to hang wet clothes to avoid dumpiness. Moreover, clothes can be placed in compression bags, and each bag labeled the name of the owner of the clothes.
Storing kitchen cutlery
Storage bins can be used to place items in the kitchen, such as folks and knives. Find a container that will maximize the space in the kitchen and also accommodate the entire cutlery. Kitchen cutlery can also be arranged using shoe organizers that allow items to be placed in different pockets.
Video Overview: Camping Hacks | Dollar Tree Haul
Use clear bags for the storage of items
Put items in see-through cans for proper identification. Label each packet according to the thing that is inside. Notably, tins are suitable for the storage of medical supplies since you can quickly grab a container by the look of the outside. Additionally, these cans if well-kept can be reused for the next camping trip.
Hanging walls
Mounting shelves can well utilize walls in the kitchen and bathroom. Organizing the shelves depends on the dimensions of the wall. Use the hanging walls to place items such as kitchen towels, spices in the kitchen and tissue papers, and wipes in the bathroom.
> You may also like:Worst 5th Wheel Brands to Avoid <<
Use a tidy tent
A tidy tent will keep the environment of camping clean. Mostly, it is applied if the camping trip if it will involve walking and biking. A tidy tent will store a couple of things, including bicycles. Additionally, it keeps your properties dry and secure.
Portable layered toolbox
Camping trips are exciting when you are in a position to move your tools from one place to another. Moreover, these toolboxes are tall, have wheels, and layers. Mostly, use them in the kitchen to store pans and pots in the different tiers available.
Food container
Storing food during camping is a necessity. Therefore, find food containers storage that is durable and can store food while fresh for long. Carry collapsible containers with airtight lids to avoid water from penetrating the food.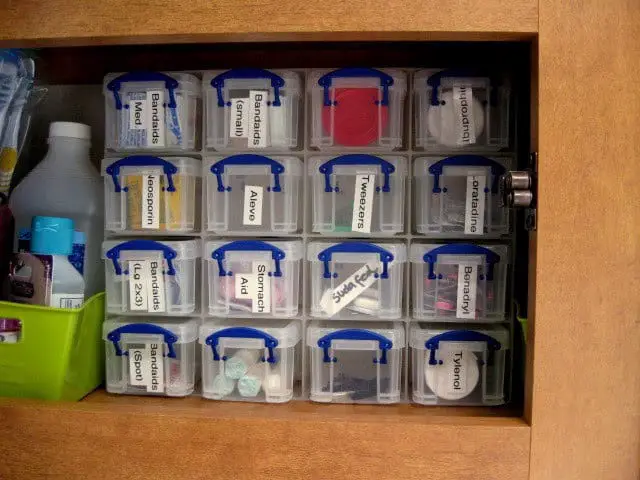 Found on Life's Simple Pleasures 
Video Overview: Ep. 40: Two Simple RV Storage Ideas | RV camping tips tricks hacks | Grand Adventure
Hidden storage spaces
Items that are rarely used during camping can be stored in secret places. Such places are under or above the bed and under benches placed in the kitchen. Notably, install camping lights to track items in hidden places easily.
Conclusion
Camping is the time for relaxing and resting. Apply these camping storage ideas to assist you in staying organized even for the next trip. Use the solutions above to make yourself jovial and satisfied during your camping trips.
> You may also like: 25 Best National Parks in the USA  <<