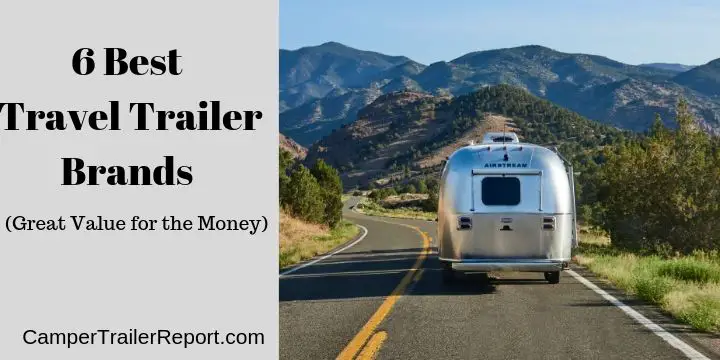 6 Best Travel Trailer Brands (Great Value for the Money)
Are you planning on a road trip and wondering which travel trailer can best suit you? No more worries. There are several brands in the market bit you need something worth your money.
This tells you that you don't have to walk to the market and pick any brand expecting to feel satisfied. We are here to help you make an informed decision in choosing the best brand. Have a look at the six best travel trailer brands on the market:
1.Airstream Basecamp
Are you looking for a light travel trailer? This is one of the best options you can get in the market today, which is worth your money.
It is easily towable by light vehicles and all the SUV brands. This brand guarantees you a great experience of a vast space adventure.
Unlike most brands, this trailer brand gives you a provision for a kitchen, a bathroom with a shower, a toilet, and a small area for keeping your essential gear. It weighs about 2,600 pounds.
You may also like:45 RV Accessory Must-Haves for Your Travel Trailer<<
Video Overview: Walk Through 2018 Airstream Basecamp 16NB Light Weight Small Camping Adventure Trailer
2.Hiker Trailer
This brand of a trailer is pretty worth your money. The brand gives you a serious but affordable trailer.
It also provides you with different sizes of trailers with the heavier one weighing 3,500 pounds while the light one weighs 640 pounds, making it almost towable by anything stronger than a bicycle.
The good thing about this brand is that it gives you customizable options so that you be unique in your ride.
Video Overview: Hiker Trailer -Thinking of buying an Extreme Off-Road model? Check this one out!
3.Happier Camper HCI
This is one of the best brands that you can get in the market. It is sufficient for all kinds of adventure that you would want to engage in.
If you are a road tripper, you can enjoy its retro-modern shell which cools the engine even when you are to use it the whole day without stopping.
Your riding style is not a limitation. It comes with lego-Esque cubes which you can configure to match your style. If you want to try it before you buy it, you can be given a rental by the company.
You may also like: 25 Best National Parks in the USA  <<
Video Overview: Happier Camper HC1
4.Timberleaf Teardrop Trailer
This brand is most recommended for the minimalist trekker. It is towable by any vehicles, even the light brads of cars.
In some instances, they can be towed by motorcycles. The craftsmanship associated with the manufacturing of this brand is evident in the beauty of the final product.
You deserve something as attractive as this brand. It also has space for storing your camping essentials.
Video Overview: A Look Inside The OFF-GRID Timberleaf Trailer
5.Safari Condo Alto R Series
This brand joined the market intending to improve the size of the trailers so that you cannot limit yourself when it comes to camping.
This means that you have more organized space for your operation. For instance, it comes with a space for a king-sized bed, mini-fridge, fixed-flush toilet, two-burner cooktop, and a shower. In essence, you will have all that you need during your tour.
It also has a kitchen. This is one of the brands that are worth your money.
Video Overview: Our Quick Look at the Safari Condo Alto 1713R
6.TexaOutdoor's Cricket
TexaOutdoor's Cricket is yet another fantastic brand which is loved by most travelers. The manufacturer is confident of what this trailer can offer.
It measures 15 feet long by 6 feet and is 11 inches tall. This well planned for size ensure that nearly all brands of four-cylinder vehicles easily tow it.
You got a bonus if you opt for this brand. You get a 32 by a 20-inch rear window to supply proper illumination.
Video Overview: 2017 Taxa Outdoors Cricket Trek Review | Adventure Trailer | Silver – RV Review
> You may also like:Worst 5th Wheel Brands to Avoid <<